A Valentine Visit from K9 Deputy Violet
March 14, 2018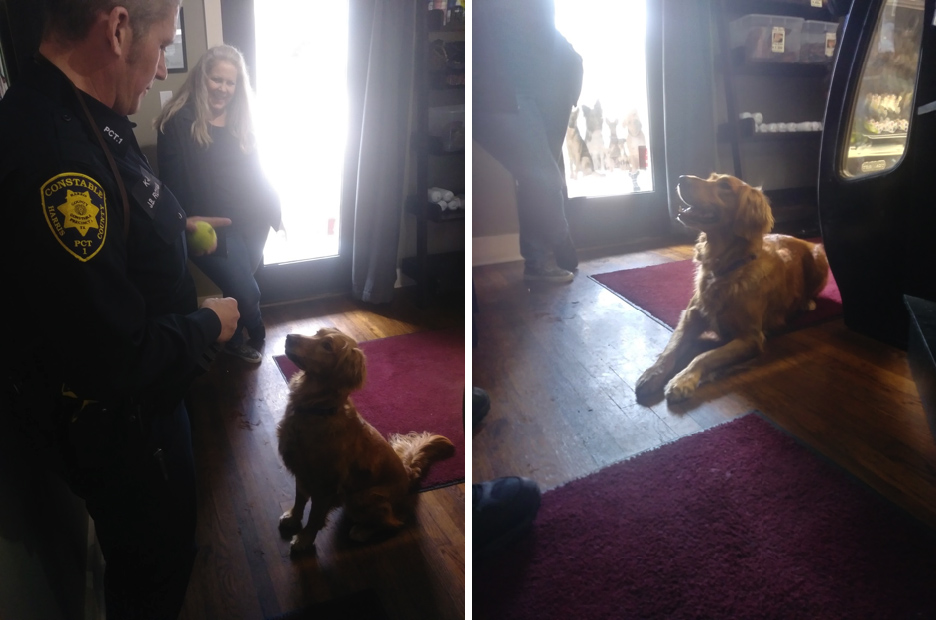 ---
One of the many things we specialize in at Jackson's Place is our bakery filled with dog goodies and treats. Deb puts a lot of thought into everything we keep stocked and baked, and the holidays get an extra dose of care and consideration. Most of our bakery sales revolve around birthdays but the holidays get their own assortment of cookies and treats as well because every occasion is the perfect occasion to spoil your dog. For that reason, my favorite time for our bakery is the months between October and April. It's during these times that we get all of our special seasonal goodies ranging from Halloween, Thanksgiving, Christmas, Valentines, and Spring-time themes.
Working at the front desk and selling baked goods for special doggy occasions offers me with the unique opportunity to meet a lot of new and interesting people and pups alike. One such opportunity arose on this past Valentine's Day in which the Harris County Constable Precinct 1 contacted us to inquire about our Valentine's bakery treats. This year we stocked up on pupcakes (cupcakes for pups, of course) wrapped with pink, red, and white cupcake wrapping and topped with hearts. They were flying off the shelves. The constable's office explained that one deputy in particular wanted to come by with his K9 deputy partner because she's a hard working sweet girl who deserved a sweet treat.
Obviously we said "Yes! Of course! Come by any time today and we'll give her a pupcake on the house! "
So around 2pm on Valentine's Day, a constables car pulled up and out came Deputy Royall and his K9 Deputy Violet, a beautiful, happy, and excited golden retriever along with a few others from the constable's office that were essentially her entourage. Deputy Royall brought her in and, because she's a good girl who loves her job and is really well trained, she began sniffing the front desk area for explosives! Thankfully she didn't alert to anything, though she did linger suspiciously long around the deli meat loaves, though I suspect that wasn't explosive-related.
After she was satisfied that there were no explosives to be found, we were given permission to smother her in pets and affection. She gave us kisses, and spun in circles to make sure we pet her from every direction. He said he took her on a run for several miles before she came by for her treat but you'd never guess it by watching her go from person to person for her hugs and kisses. Deputy Royall got her attention by pulling out her special tennis ball that he kept in his police duty belt. According to him, it's her favorite thing in the world and as long as the tennis ball is present, nothing else exists for Deputy Violet; and that was no exaggeration! As soon as she caught sight of that ball, she sat with a look of complete focus and determination. She laid down, stayed, and even walked backwards to earn her tennis ball time.
After a few chomps on her signature tennis ball, it was time for the sweet treat that we set aside for her. We picked out a Valentine's pupcake with sprinkles and hearts – perfect for a sweet, hard-working gal such as violet. Deputy Royall had her sit and once she caught sight of that pupcake, I saw that same look of focus and determination that she had when she saw her tennis ball, but this time the drool followed. After snapping a few photos of Violet staring at her pupcake, Deputy Royall unwrapped it and gave her permission to dig in.
I'm not exaggerating when I say that she gobbled that thing down in one big bite! Aside from a few bits of icing, not a single piece of that pupcake hit the floor. It was gone in the blink of an eye and she was licking her chompers for a few minutes to get every last bit of flavor.
We don't usually get to see the bakery goods that we sell being eaten by the lucky pups for whom they're purchased so it was really a treat to see a dog as deserving of extra love on Valentine's day such as Violet enjoy her treat so thoroughly. It was also really rewarding to give back to Deputy Royall and K9 Deputy Violet for their diligence and hard work, even if it was a small gesture in the shape of a love-themed pupcake. Having had virtually zero experience with interacting with working dogs, especially dogs working on such an important job, I wasn't sure how much we'd be allowed to interact with her. It turns out that, as long as she's not in the middle of sniffing for explosives, and with the permission of her partner Deputy Royall, she's allowed to get pets and kisses and treats just like any other dog.
Working at Jackson's Place has so many perks that only matter if you're as obsessed with dogs as we all are. For a dog nerd like myself, and my fellow dog nerd coworkers that were there including the owner of Jackson's Place, Deb; meeting, petting, and feeding a special girl like Violet was truly an experience we'll remember that warmed our hearts and taught us just a little bit more about the dog world of Houston that we just can't seem to get enough of. Happy Valentine's Day, Deputy Royall and K9 Deputy Violet and thank you for everything you do to keep our city safe!